VW Brake Services in Newark, CA | Winn Volkswagen of Newark
Winn Volkswagen is the Best Choice for Volkswagen Brake Service
In Newark, CA, Winn Volkswagen offers unparalleled service and customer care for an unbeatable customer experience. Our certified technicians can service any kind of Volkswagen, including Tiguan, Jetta, and Bug models. And our genuine OEM replacement parts ensure that you will get the best fit and function with your new brake parts. So if you can't remember the last time you had your brakes examined, or hear unpleasant noises coming from your brakes, head into the Service Department at Winn Volkswagen today. And we also service not only Newark, CA, but also the surrounding areas of Union City, Fremont, San Jose, and the San Francisco Bay Area.
Common Brake Services Offered at Winn Volkswagen
Our certified technicians can work on any type of vehicle when it comes to braking issues, so you can rest assured that they have seen your issue before, and they have worked on your type of vehicle before, so you are in good hands. Here are some common services we offer:
Brake Fluid Exchange - Brake fluid transfers and amplifies the force of your foot on the brakes to the calipers; as a hygroscopic fluid, it will absorb moisture and eventually need to be replaced as it becomes less effective.
Brake Pad Replacement - The brake pads consist of a metal backing and a softer brake lining that is designed to wear down; when this lining gets thin, it's time to have your brake pads replaced.
Rotor Resurfacing - The brake rotors may become glazed or warped well before they wear out; we can resurface the rotors, smoothing their surface to help you avoid paying for entirely new parts before it's necessary.
Caliper Service - The brake calipers squeeze together to push the brake pads against the brake rotors, and they will regularly need to be cleaned, lubricated, and inspected to ensure that they are providing the necessary precision.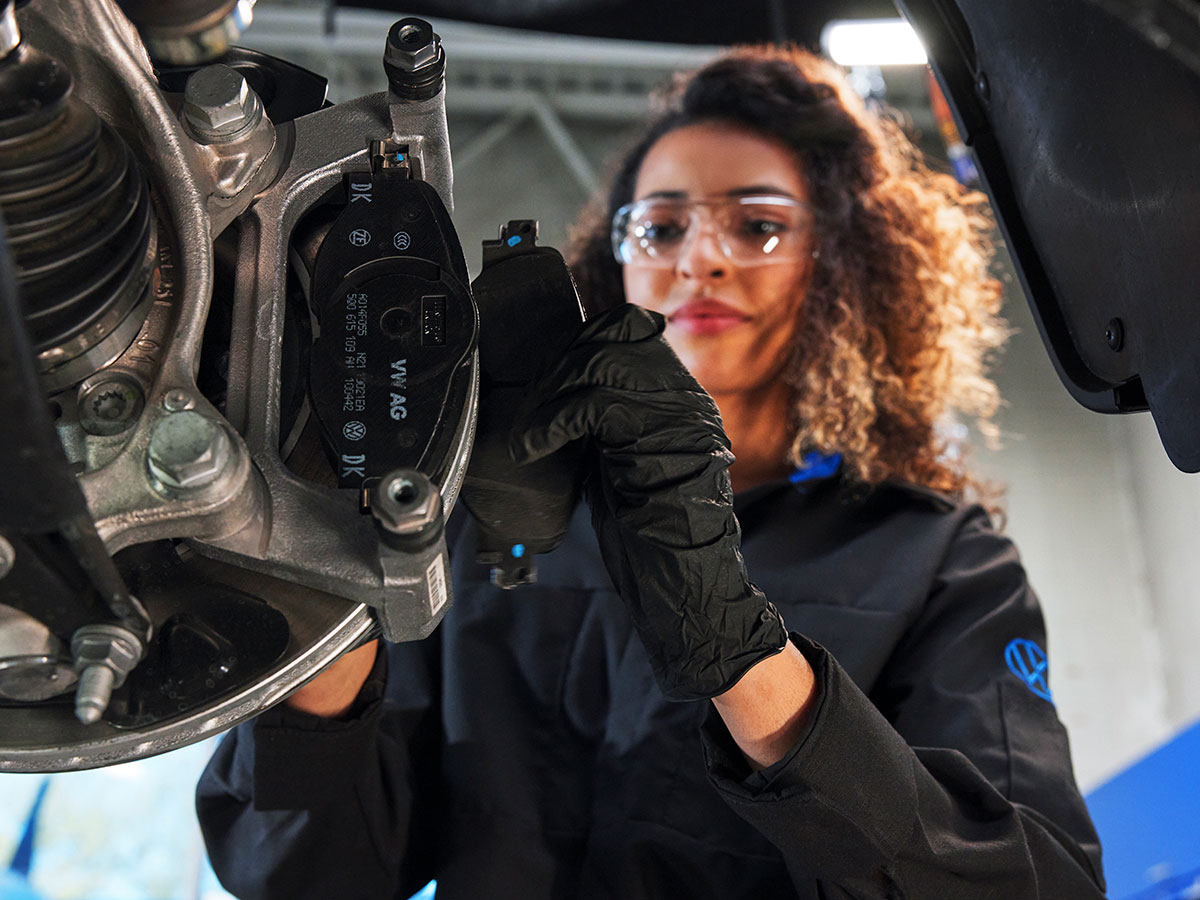 Why You May Need Brake Service on Your Volkswagen
Brakes can encounter a host of issues, but there are some common signs that you may need to have them inspected by a certified technician. These include:
Grinding or high-pitched squeal when braking
Unusual odor or burning smell when braking
Brake pedal depressing almost to the floor
Vibrations in your steering wheel when braking
If you experience any of these conditions, call or schedule an appointment online today to have a certified technician examine your vehicle.
Come Into Winn Volkswagen for Your Brake Service Today
Your brakes get the royal treatment at our service department, but so do you! When you schedule your next brake service appointment online or over the phone, you can then enjoy our comfortable waiting area, Wifi, snacks, beverages, and flat-screen televisions. We also offer convenient Saturday service hours and free Uber and Lyft rides. Also, don't miss out on our complimentary multi-point inspections with your service appointment. We look forward to seeing you in our service center soon!