VW Alignment Services in Newark, CA | Winn Volkswagen of Newark
Wheel Alignment Services Available at Winn Volkswagen of Newark
If your Volkswagen's wheels have never gone out of alignment, you may not know much about this service, if you've heard about it at all. Some customers have the fortune of owning vehicles that go their whole lives without needing a single wheel alignment service, while others own vehicles that need frequent alignment services. Whether it's your first, fifth, or hundredth time getting wheel alignment services for your Volkswagen in Newark, CA, trust the certified technicians at Winn Volkswagen of Newark to get the job done right every single time. Our state-of-the-art facility is equipped with high-end technology that makes restoring your factory alignment settings simple for our Volkswagen certified technicians. Plus, our genuine OEM parts ensure that your warranty is protected at all times. Schedule your wheel alignment service online today at Winn Volkswagen of Newark.
Common Wheel Alignment Troubles
If you've ever driven or been a passenger in a vehicle with wheel alignment problems, you'll likely have seen at least a few of these problems before. Ever drive with someone and notice that they have to hold their steering wheel at an angle to drive straight? That's a pretty obvious sign of unaligned wheels. Ever notice that your car tends to pull to one side of the road despite being on a flat, straight highway? That's another one. A slightly more difficult symptom to connect is when you experience vibrations in your steering wheel or driver's seat. Still, more often than not, a simple check of your tire tread wear will give you an indication as to the status of your Volkswagen's wheel alignment (if it's wearing drastically unevenly on one side, that's a big red flag).
Two-Wheel Alignment - Also known as a front-end alignment, two-wheel alignment is generally performed on vehicles with a solid rear axle; it involves inspecting and adjusting the camber, toe, and caster angles on the front wheels.
Four-Wheel Alignment - Vehicles with independent or semi-independent rear suspensions will need to have the camber, toe, and caster angles inspected and adjusted on all four wheels; this is also called an all-wheel alignment.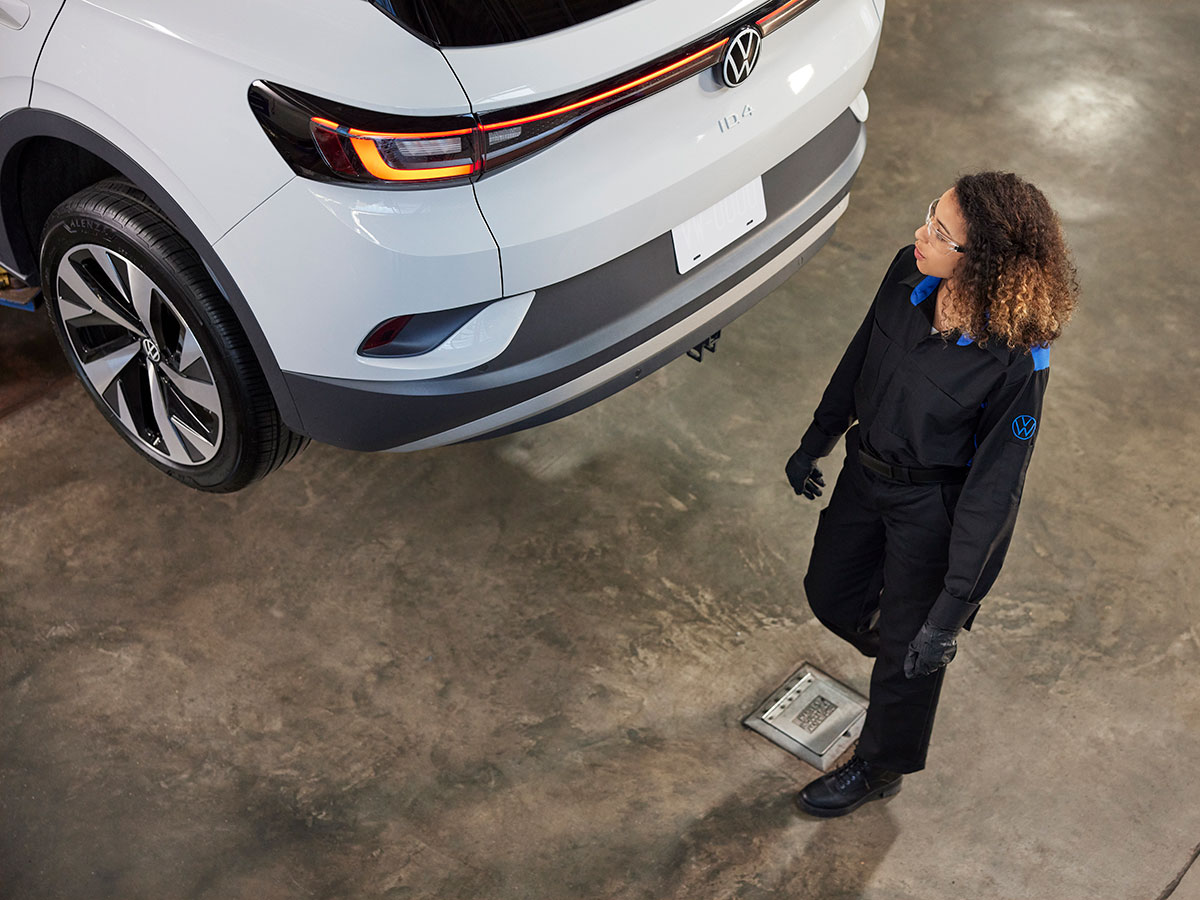 Fix Wheel Alignment Problems with Volkswagen Certified Technicians in Newark, CA
For vehicles with two-wheel drive systems (most customers), a two-wheel alignment service is all it will take to restore your Volkswagen's wheel alignment to factory settings. Our certified technicians will use computerized technology to bring the camber, caster, and toe settings of your front two wheels back into alignment. Then you'll be good to go after an inspection of your suspension for any possible problems that may have contributed to your alignment troubles. For four-wheel-drive vehicles, you get all of the above that's included with a two-wheel alignment service, but you also receive an adjustment of the camber and toe of your rear two wheels.
Home/Office Pick-Up & Delivery Service at Winn Volkswagen of Newark
Don't care to drive your Volkswagen to its service appointment yourself? Let our certified technicians get your Volkswagen to and from its service appointment using our home/office pick-up and delivery service at Winn Volkswagen of Newark. Schedule wheel alignment service online or by phone and see why we are the trusted Volkswagen service department in the San Francisco Bay Area.